UPDATE: 2 hours in. 50 miles, 4 stops. Not our best work.
She is wide awake, spurning the bottle, mauling my left arm with all four if her limbs AND her mouth. Beyond adorable.
He took a 30 minute nap after a lunch of fries and chocolate chip cookie. Woke up because I took too long running in to old navy for a bigger size flip flop for him. He is in RARE meltdown form. We have looked to the bullpen much sooner than expected; our ace has been called in: the iDad. Currently watching George episodes. Judge not.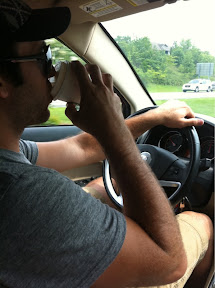 3 pm coffee break. He says it's the best $1.50 he's ever spent. Hes looking ultra foxy in his new shades.
We don't own a van. I'm crammed in steerage with the peasants and bags. What I wouldn't do for a captains chair right now...
we are headed out on our summer vacation in a few minutes. i am not sure if we are going to have internet in our condo, so hold off on the APB's until next monday if you dont hear from me until then.
i have changed 5 poopie diapers in the last 3 hours, so hopefully that's a met-quota for the whole day. we have a 6 hour drive ahead of us and then its pure family fun for the next 7 days. relaxing might be a bit of a reach, but i am hoping to read one book, play 3 games of beach volleyball, acquire 50 new freckles, run at least 15 miles, eat a cubic meter of fresh seafood and have a big, sunny blast with my husband, kids and friends.
see yall on the flippity flop!